Luke |
articles
,
visualizations
30 Sep 2011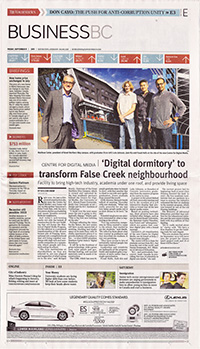 It's been a long time since our last post, but as our ever-growing
Projects page
indicates, that doesn't mean we haven't been busy. One of the more exciting things to happen to us recently has been our being
featured in The Vancouver Sun
in relation to the work we've been doing with the Great Northern Way campus, which you can find out about
here
.
Click here to view a scan of the Vancouver Sun article.
The story appeared in the newspaper on the day of the official groundbreaking event that took place on Sept. 9th celebrating the new Centre for Digital Media. It was a beautiful sunny Friday afternoon and a good time was had by all. As well as reconnect with a lot of old friends, it was an opportunity for us to show off our work, which provided a backdrop for speeches made by some pretty important people – Minister of Advanced Education
Naomi Yamamoto
, Director of the Masters of Digital Media program
Richard Smith
, President of the Great Northern Way Campus trust
Mathew Carter
and even Mayor of Vancouver
Gregor Robertson
.
The
Great Northern Way Campus
(GNWC) is one of the more interesting developments happening in Vancouver right now both in terms of the scope of vision as well as the people behind it, and events like this are a clear testament to that.
On exhibition was some of the work being done by MDM students as well as more eccentric inhabitants of the GNW campus, one of whom is
eatART
. Their awe-inspiring 15-foot tall solar-powered tricycle was a show stopper. These guys are amazing, and we can't wait to see what they come up with next. If they're any indication of the kind of tenants GNWC will be attracting as the site continues to develop, I can't wait to see what the site will look like 10 years from now.